As the pollution is getting increased, the dirt and other polluted particles get clogged into our skin and make it look dull and uneven. It is good that you use proper exfoliation procedure for your skin to remove the dirt particles from the skin. Here a question arises that what scrub should be used for the exfoliation for your skin type.
In this article, we are sharing a guide to make a salt scrub, which is best for exfoliation without the use of any harmful chemicals. If you want to know how to make the optimal salt scrub at home, then keep reading this article.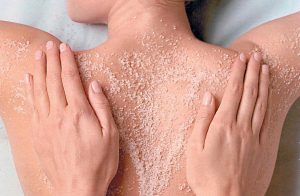 How to make salt scrub?
If you are pondering about the procedure of making the salt scrub, then all you need is an organic oil and pink salt, also known as Himalayan salt. If you want to make the best salt scrub, then you should make use of the grapeseed oil, which is less greasy and rich in moisturizing. So make sure you use this oil for your DIY salt face scrub recipe for proper exfoliation.
You can even make use of the almond oil, which is rich in vitamin E and helps to moisturize your skin well and prevent it from the breakouts. If you have dry skin, then you should go for the almond oil only as it helps by getting more profound in the skin layer.
This homemade salt scrub helps provide your skin proper moisture and pull out the dirt particles which get clogged into the skin and pores of the face.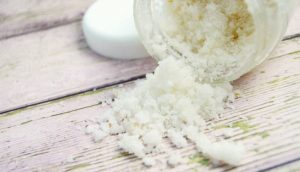 Primary benefits of using the homemade salt scrub
Chemical-free: this DIY scrub is chemical-free, so you are surely not having any side effects because of it. People with sensitive skin often suffer from skin problems such as inflammation, skin itchiness, redness, which are used due to the use of chemical exfoliation masks. If you have sensitive skin that you should undoubtedly make use of these DIY salt scrub.
Reduces the premature signs of aging: getting early aging signs is the most prevalent skin problem which is faced by both men and women; making use of this salt scrub can help you to reduce the sign of aging and helps you to look younger.
Radiant skin: getting radiant, glowing, and healthy skin is the dream of every person, but due to stress and unhealthy lifestyle habits, make your skin dull if you want to get radiant skin, then using twice will make it happen.